Posted by
admin

| Posted in What's New! | Posted on 04-07-2012
Feneex Gallery
Presents
Meditative Radiance: The Art of Willie Marlowe
July 13 – August 31, 2012
Opening Reception:
Friday, July 13, 6 -8 PM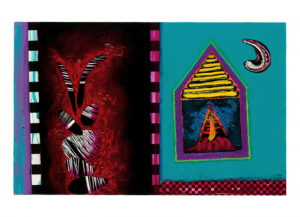 Willie Marlowe has shown paintings in solo and invitational exhibitions in the U.S. and abroad. Her work is included in museum, university, corporate and private collections.
Her work is informed by travel, going to museums and archaeological sites in Europe, the Yucatan and Russia. She often works on intimately scaled acrylic paintings on paper. Her luminous surfaces are achieved by using an intense palette and successive layers of translucent glazes.
She taught painting and drawing in the Department of Visual Arts, The Sage College of Albany, and has taught watercolor in two of The Sage Colleges' international studies programs, "Sage at Oxford", Somerville College, Oxford University, and "Celtic Connections" in Scotland and Ireland.
She is now Professor Emerita, The Sage Colleges.
Of her work she says:
"I find that painting is an unfolding journey that leads to incremental discovery rather than a certain path to a predetermined destination. My early influences were medieval manuscript illuminations and Persian and Indian miniature paintings. I was attracted to the clear color, intricate detail and sense of space. I continue to be drawn to the focus and presence these images can have. My paintings are small in scale, though not quickly accomplished. They are frequently begun with a sgraffito line that reveals a brilliant color underneath. Most paintings are abstract, but many have references to ancient art and archaeology."
The exhibition is curated by Stephen J. Tyson