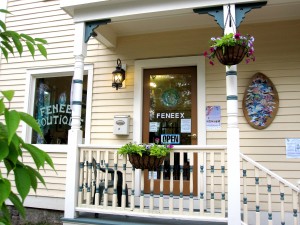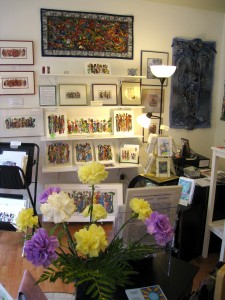 Feneex is a unique boutique and gallery of unusual gifts of art for one and all! It features colorful textile collage art, such as The Community Gathering Series, ethereal mobiles, and printed art by owner Francelise Dawkins. Also shown: vibrant drawings and paintings by Stephen J. Tyson; elegant silk scarves, Kimono bags & pillows by Charlene Leary; beautiful hand-painted scarves by Kathy Klompas; Om signs, quilted rugs, jewelry, and artful potholders by Danielle Lyons; jackets and tote bags by Peggy Long; jewelry by Cecilia Hayes and Chris O'Connor; fiber sculptures by Wil Ketjens; and original textile art cards by Joanna Monroe, and Fascinators and cocktail accessories by Becky Levine!
We are located "downstream" on the "sweet extra-mile" at 30 Beekman Street (last building on the left) in the Saratoga Springs Arts District.
Inquire about collage workshops for you or a group of up to 8!
Contact us at 518.698.3711 or Email: feneexoring@yahoo.com.
Summer store hours: Thursday-Saturday, 11-6 pm; Wednesday & Sunday, 1-6 pm; Monday & Tuesday by appointment.

Merci & please visit us soon!